Accommodation
We prioritise making sure women feel safe and comfortable from the moment they arrive at the refuge.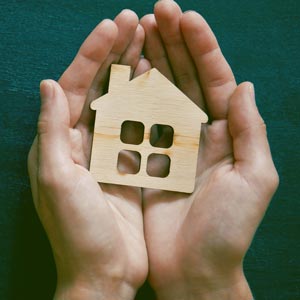 24/7 Support
Members of our team are available at the refuge at all times including evenings, overnights, weekends and public holidays. This is to maximise safety and security, ensure residents support needs are met and deal with any emergency or admission which occurs out of hours.
The house
Residents have their own bedroom and lockable food cupboard – all other facilities are shared. All areas of the house are nicely furnished, including a TV and all household appliances.
The bedrooms are prepared in advance of arrival and we try to make them as comfortable as possible. They have all the usual bedroom furniture as well as a hand wash basin with vanity units, colour TV and fridge. Fresh towels, toiletries and age appropriate toys are put into each room. It is important to us that women and children have some essentials, no matter how little they bring with them. 
The garden
There is a private, secure garden at the rear of the house with outdoor play equipment for the children. In addition there is a play room where children's indoor activities take place.
In need of help?
If you feel worried about your circumstances, please don't suffer in silence. You don't have to be alone, we are here to help.
Contact Us Now
0800 008 6622
Referrals
We welcome women from all backgrounds. If we have a room and the referral criteria are met, then women can move in immediately.
.
Support
Women and children often arrive at Gilgal feeling abandoned and alone. Our Support Workers and Children's Workers are vital to help women on the path to recovery.
Children's Work
When children witness emotional or physical abuse they need help to view the world more positively again.

Get in Touch
We aim to provide a quality and sensitive service in a safe environment. If you feel intimidated, controlled or silenced, that's abuse. Whether its psychological, physical, sexual, financial or emotional – get help now, we want to listen.